Meet Werribee Mazda's Brand Ambassador Cameron Mooney!
We are very excited to have Cam on board and look forward to working with him. Click here for more videos
---
Werribee Mazda Challenge Golf Day
On Friday 13th March, the Werribee Mazda Challenge Golf Day celebrated its 10th year supporting Challenge.
Swinging into action and putting for a purpose, more than 100 people gathered on the glorious fairways of the Kooringal Golf Club to raise funds for children and families living with cancer. The day also welcomed The Block's Keith Schleiger and Essendon Football Club's Jake Stringer, Devon Smith and Dr Bruce Reid.
The event is organised every year by Yarraville locals, Tony and Helen Barr, who first became involved with Challenge in 1996 when their nephew, Nick, was diagnosed with cancer. They have since been invaluable members of the Challenge community and we are very grateful to them for their efforts and contribution to this Golf Day, which is proudly sponsored by Werribee Mazda.
The funds raised from the event go specifically towards supporting Challenge families who live in the Western suburbs of Melbourne.
What Tony and Helen have been able to achieve over the last ten years is truly remarkable and a testament to their determined spirits. The support of the Kooringal Golf Club, Werribee Mazda and local businesses is also hugely important and the day would not be the success it is without them.
A big congratulations to everyone involved! We cannot thank you all enough - especially our volunteers - for devoting your time and energy into this event!
---
Global MazTech Competition Winner - Benjamin Micallef - Werribee Mazda
Werribee Mazda would like to congratulate Ben Micallef on winning the Global MazTech competition in Japan!
MazTech is a Technical Skills Competition for Mazda Technicians working within the Mazda Dealer Network. It was against 22,000 participants across 51 countries. It allows technicians to test their knowledge and skills against others.
Ben was successful in the first 3 rounds here in Australia, and then traveled to Hiroshima to compete as a National Finalist, and won!
The Managing Director of Mazda Australia, Vinesh Bhindi, visited Werribee Mazda to personally award our Service Foreman, Ben Micallef, for being the Global MazTech Competition winer.
What a incredible achievement, we are extremely proud of what you have accomplished, Ben!
Featured in the group picture from left to right:
Paul Zele - Werribee Mazda Dealer Principal
Ben Micallef - Werribee Mazda's Service Foreman 'Global MazTech Competition Winner'
Vinesh Bhindi - Managing Director of Mazda Australia
Troy Clark - Werribee Mazda Service Manager
Joe Prelovsky - Werribee Mazda Dealer Principal
---
Avalon Dance Stars on the floor
The Avalon Dance Stars on the Floor committee and the Mental Health Foundation Australia joined together and organised this wonderful event to raise funds for Mental Health and the Prevention of Youth Suicide.
Jamie Marasco along with seven other Wyndham Stars were chosen to dance and were matched up with top ballroom dancers. Each couple danced two dances on the night and prizes were awarded for the best dancer and for the most amount of money raised.
Werribee Mazda would like to congratulate Jamie on his fantastic effort in taking part in the Avalon Dance Starts on the Floor event!
Jamie was also awarded a trophy for having raised the most funds out of the dancers to go towards the Mental Health Foundation.
What an amazing outcome and we are so proud of your achievement Jamie!
Click here for more information about this event.
Dance video 1:
Dance video 2:
---
Celebrating a True Master Dealer
At Mazda, we know it takes a dedication to excellence to become a master. That's why we're celebrating Werribee Mazda's outstanding team as we join the ranks of the mazda Master Dealers.
At Werribee Mazda, it is our priority to always give our valued customers an experience that is nothing but exceptional.
We take great pride in providing the highest levels of Customer Service and are dedicated to ensuring full Customer Satisfaction.
As an Award Winning Dealership and we are extremely excited to have won our 20th Mazda Master Dealer Award.
Come in an experience our Award Winning Service for yourself.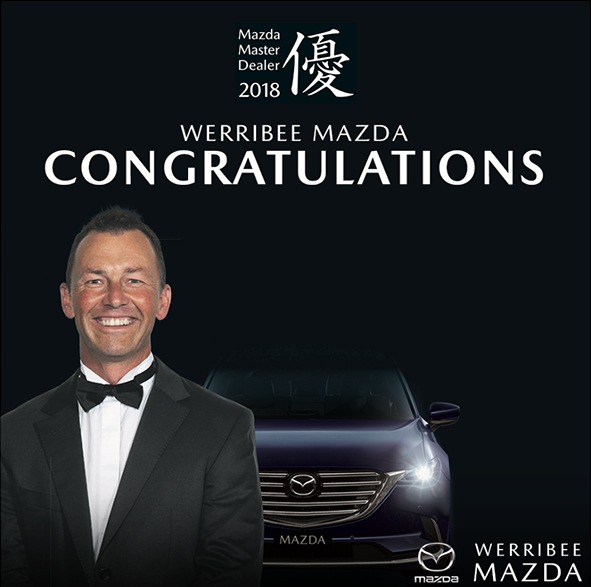 Click here for Star Weekly
---
MazTech Mechanic winner
Ben Micallef is excited about representing Australia in the Maztech international final later this month.
The Trauganina tech whiz, who works at Werribee Mazda, will fly to Japan for the international final of the competition on May 22. The competition tests the skills of Mazda technicians from around the world.
Of the 244 technicians who entered the Australian section of the competition, 32 progressed to the state finals and eight to the national finals.
Out of those eight, just two, including Mr Micallef, 33, were selected to represent Australia at the international finals.
Mr Micallef said the national finals, held in Mulgrave, required the competitors to demonstrate technical skills such as engine testing, diagnosing faults and performing repairs on vehicles and car components.
He said the competitors were given 20 minutes to complete each task, as the judges wanted to see how they performed under pressure.
"It was the first time I've ever done anything like this," Mr Micallef said.
"I was probably more nervous than anything, and a bit excited."
Mr Micallef began his career in the automotive industry at the age of 18, working at a Tullamarine workshop before starting at Werribee Mazda.
Click here to see the article from Star Weekly.
---
MAZDA GUILD 2018 - AWARD WINNERS
The Mazda Guild 2018 program has been finalized and we extend our congratulations to all of the winners. Many of the Mazda Guild Sales, Parts and Service team members have delivered outstanding performances throughout the past year and, as a result, the top achievers have been rewarded with Mazda Guild 2018 Master Membership. Master Membership status is the highest level for the Mazda Guild. This prestigious recognition is awarded to only those Managers, Consultants, BT-50 Specialists and Frontline staff who have achieved exceptional results across all areas of assessment. Please find listed below the Mazda Guild 2018 Master Managers, followed by Mazda Guild 2018 Master BT-50 Specialists, Sales Consultants and Master Service Frontline Staff.
Congratulations to all these high performers. Each winner has demonstrated their commitment to the values of the Mazda brand and has shown a high level of dedication to the pursuit of the perfect customer experience. All the best for Mazda Guild 2019.
The winners were:
Jamie Marasco (Sales Manager) - Guild Master Manager
Troy Clark (Service Manager) - Guild Associate Member and Long Term achiever
Anthony DiCocco (Sales Consultant) - Guild Associate Member and Long Term achiever
Archie Davis (Sales Consultant / Service Advisor) - Guild Associate Member
Darren Kruger (Sales Consultant - Guild Associate Member (NO PIC)
Izzy Sargin (Sales Consultant) - Guild Associate Member
Junno Climaco (Sales Consultant) - Guild Associate Member
Simon Sciberras (Sales Consultant) - Guild Associate Member
Trent Diblasi (Sales Consultant) - Guild Associate Member (NO PIC)
Ben Micallef - (Service Technician) - MazTech champion
Rudy Susanto (Service Advisor) - Mazda Master Technician
Hiren Gandhi (Service Advisor) - Guild Associate Member
Jamie Marasco
Troy Clark
Anthony DiCocco
Archie Davis
Izzy Sargin
Junno Climaco
Simon Sciberras
Ben Micallef
Rudy Susanto
Hiren Gandhi
---
Mazda Guild Award
Werribee Mazda is very proud to announce that our New Car Sales Manager, Jamie Marasco was awarded the Mazda Guild Award last week.
The Mazda Guild is designed to recognize and encourage outstanding individual performances across the Mazda Dealer network.
We Congratulate Jamie for receiving this prestigious award which is a measure of excellence and only awarded to Mazda Australia's top performers in recognition of delivering outstanding performance.
---
Werribee Mazda Wins Again!
Werribee Mazda is proud to have achieved the coveted 'Master Dealer' status for the 20th time since the scheme was initiated in 1994. This award recognises the top-performing dealerships in terms of sales, performance and customer service. One of very own dealer principals Paul Zele received this prestigious award on behalf of the team.
MAZDA, Kia and Ferrari are among the motor vehicle brands to announce major category winners in their respective 2018 retail incentive programs, saluting their top-performing dealerships and the essential role they play in key areas such as sales performance and customer service.
The nation's number-two brand, Mazda, again highlighted 14 dealers on an equal basis that excelled in its 25th annual Master Dealer Excellence Awards program, with Wippells Autos from Toowoomba in Queensland still standing tall as the only Mazda dealership to have reached this level every year since the scheme was initiated in 1994.
Paradise Motors in Adelaide made it 23 out of 25, while Ringwood Mazda (21) and Werribee Mazda (20) in Melbourne are the only other dealers to have achieved the coveted 'Master Dealer' status more than 20 times.
Two first-time winners were welcomed into the fold: South Morang Mazda, a new dealership also in Melbourne, and Wide Bay Mazda, which operates at Hervey Bay and Maryborough in Queensland.
The other standout Mazda dealers in 2018 were Hornsby Mazda (NSW), Mareeba Mazda (Qld), Port Lincoln Mazda (HV Motors, SA), Mawson Lakes Mazda (SA), Graeme Powell Mazda (Vic), Mount Gravatt Motors/South City Mazda (Qld), Penrith Mazda Centre (NSW) and Ballarat Mazda (Vic).
Mazda's program is divided into groups based on sales volume and business targets across its national network, with the award based on key performance index (KPI) data across various aspects including facilities, business processes, people development, sales results, financial management and customer satisfaction.
Announcing the winners at a presentation ceremony in Adelaide, Mazda Australia sales director Jarrod Gieschen said: "A highly motivated and passionate group of dealers is absolutely integral to the success of Mazda Australia, and the Mazda Master Dealer program gives us an opportunity to celebrate their efforts.
"The program helps to advance the benchmark for service each year, encouraging evolution and improvement on best practice, honouring Mazda's customer-centric focus at every touchpoint."
Queensland was also in the spotlight at Kia Motors Australia's 2018 Dealer of the Year awards, with Motorama Kia (Moorooka) in Brisbane taking out the South Korean brand's National DOTY title and Northern Regional DOTY award.
Dealer principal Simon Guthrie and Motorama Group managing director Mark Woelders were on hand to accept the awards, while Motorama's Browns Plains dealer principal Carl Martin also received a separate 'World Platinum' award.
The other regional Kia DOTY award winners were Great Western Kia in Kingswood, NSW (Eastern), Wayne Phillis Kia in Reynella, SA (Central), Echuca Kia in Victoria (Southern) and Midland Kia in WA (Western).
Ferrari Australasia has also celebrated the achievements of its small, exclusive network in Australia and New Zealand, with Ferrari Sydney – part of the McCarroll's Automotive Group and led by dealer principal Simon McCarroll and general manager Angelo Ruberto – named 2018 Dealer of the Year.
The Sydney dealership's Mario Guerrera also won the 2018 Sales Manager of the Year award, while Barbagallo Ferrari in Perth had the two other major category winners with Emanuele Pavone crowned Aftersales Manager of the Year and Adeline Tay named 2018 Sales Manager of the Year.
In accepting the top award, Mr McCarroll said: "It's an honour to be recognised as the 2018 Dealer of the Year for Ferrari amongst our peers. We appreciate how hard each of the individual teams work to maintain the brands cherished reputation in our local market."
Sydney Ferrari's last won the DOTY title in 2016, while last year's winner was Continental Cars in Auckland.
Among those present at the Italian supercar marque's awards presentation ceremony in Sydney was Ferrari's global senior vice-president of commercial and marketing Enrico Galliera, head of Ferrari Far and Middle East Hub Dieter Knechtel and Ferrari Australasia CEO Herbert Appleroth.
"We're proud to recognise our extended Ferrari family who share our passion for excellence in customer service and the preservation of the Ferrari brand," Mr Appleroth said.
Ferrari says the DOTY award selection criteria is based on "the highest achievement in areas of sales, proactive customer engagement through localised marketing initiatives and quality of aftersales retention".
By Terry Martin - Go Auto News
To read the article on Go Auto News please click here.
---